Here at the OMW World Headquarters, we often note that these blogs are published at our discretion, and we may not be around every day.
Well, you'd have to round up the proverbial "wild horses" to pull us away from this today and Friday.
Here's your update, just one day before the big Diigtal TV Transition Date.
A reminder: the vast majority of Cleveland market TV stations will shut off their analog signals at 10 AM on Friday, including all of the area's commercial TV network affiliates...
WVPX TESTS:
The second post-transition digital signal to hit the Cleveland market lit up early this morning.
ION Networks O&O WVPX/23 Akron has never had a pre-transition digital signal. It was assigned RF channel 59 for that purpose, but WVPX never gained clearance for that signal from Canadian regulators...and channel 59 is out of the digital TV "core" anyway.
Thus, the station had to go through similar negotiations to clear the way to transition digitally via flash cut onto its analog channel, 23, and that signal made its first appearance late last night into early this morning.
Here at the OMW World Headquarters, we get strong signals out of the Akron "antenna farm" stations, and WVPX-DT was no exception last night. We've heard scattered reports elsewhere in the Cleveland market of mostly good reception, though we have no idea if WVPX-DT was operating at full, authorized post-transition power.
Notice that we said "was operating".
The testing WVPX-DT signal went away sometime this morning, and the ION-owned station is once again on analog channel 23.
While we presume there's some flexibility built in to this process for testing, WVPX-DT won't be allowed to permanently broadcast until after midnight on Friday morning...a condition built into all post-transition licenses, and one that WVIZ-DT and WNEO-DT both filed to bypass via FCC-issued special temporary authority.
AND ANOTHER:
For that matter, the post-transition condition also applies to Gannett NBC affiliate WKYC/3's shiny new digital signal on RF channel 17.
But OMW reader Scott in Salem reports that WKYC did briefly light up the new facility on Wednesday night...at about 7:30 in the evening. (Note that Scott has described his impressive "deep fringe" antenna system some 55 feet high, which means that mere even rooftop antenna-owning mortals in Salem may or may not pick up the new Cleveland signals.)
Scott's passed along this capture from that brief WKYC-DT 17 operation, and notes that the signal indicator on his Dish Network HD/OTA receiver shows "signal quality", not strength.
We would expect WKYC to light up the new facility for good sometime after midnight tonight/tomorrow morning, and give it time to run before dumping analog channel 3 at 10 AM.
We haven't confirmed locally that WKYC will show nightlight/DTV information programming on analog 3 for the next two weeks, but the station has filed with the FCC more than once that it will do so. Either way, regular NBC and local WKYC programming will stop being aired on analog 3 after the switch.
AND THE PREVIOUS ONE:
ideastream PBS affiliate WVIZ/25 Cleveland is making sure it's known, and known again...the new full-power digital signal that debuted earlier this week is official.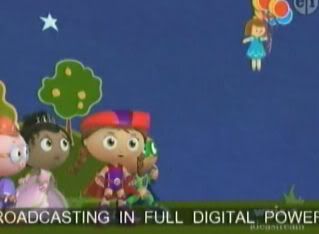 The station is airing, on all signals, a constant, non-ending crawl to that effect, which we've captured from the station's educational programming in this screen shot.
Presumably because WVIZ can't break off the scroll only to air on the analog side, it's also showing up on WVIZ-DT 25.1's new signal. (It does not air on WVIZ-DT's subchannels.)
If there was some way to separate the scroll to only air on analog 25, it would be a moot point...with that signal ending tomorrow, it'd be silly to buy/requisition/borrow equipment for a signal and technology that will go away for good in under 24 hours.
So, WVIZ viewers will have to endure the constant, non-ending scroll for another day...
NORTHEAST OHIO PREPAREDNESS:
The folks at Nielsen are tracking viewer readiness for digital TV, and the "unprepared" numbers continue to drop as the transition is about to happen.
The Hollywood Reporter, via Reuters,
reports
:
Just days before the transition to digital television, 2.8 million households, or 2.5 percent of the TV market, are unprepared.
According to Nielsen, the latest tally is half of the 5.8 million that were unprepared in February, when the government postponed the transition by four months.
So, where are people "not ready", according to Nielsen? Quoting The Hollywood Reporter piece again:
The Albuquerque/Santa Fe area of New Mexico is the least ready, with 7.6 percent of TV homes completely unprepared. Several of the nation's largest markets -- including Dallas-Fort Worth, Seattle-Tacoma, Los Angeles and Phoenix -- have unprepared TV households in the 4-5 percent range.
And...Cleveland/Akron (Canton), take your rightful place in the DTV List of Shame!
The Nielsen report (a press release detaling the findings is available
here
in a PDF file) says 3.67 percent of TV homes in Ohio's largest market are "completely unready" for the DTV transition.
That means the nearly 56,000 homes in question in the Cleveland/Akron (Caoton) TV market have absolutely no way to watch the converted local stations after analog signals go off the air tomorrow - no DTV converter box, no TV with digital tuner, no cable or satellite, or other method to get the local stations into their home.
We've passed along such numbers before, and always wonder - for example - how many of those 56,000 local TV homes watch much TV. We're wondering how the "unprepared" number will affect things like local TV ratings...where a fraction of a ratings point affects which station claims "number one" status in such things as local newscasts...
DT OR NOT DT:
The FCC has clarified callsign confusion in the post-transition age.
A recent FCC order says that after tomorrow, station callsigns will revert to the analog form of the call sign, and that the -DT suffix will magically disappear from WKYC-DT, WEWS-DT, WJW-DT and the rest of America's digital only stations.
If a station wants to keep "-DT" for whatever reason, the commission will allow a no charge filing to do so.
If a station never had any callsign but one with a -DT suffix (like Myrtle Beach SC's new digital-only NBC affiliate), it can file, again, at no charge, to remove that suffix...assuming the combination is not taken elsewhere by another station.
In the case of that South Carolina station, there appear to be no radio stations or other TV stations with the calls WMBF, so it likely could just dump the "-DT" and go with the four letter calls...