It's now three weeks from what appears to be the final digital TV transition date, June 12th, when all full-power analog signals in the United States will sign off for good.
And work on one new local digital TV transmission tower appears to be up to speed.
Yes, we're talking about Gannett Cleveland NBC affiliate WKYC/3's new tower at its world-famous Broadview Road transmitter site in Parma, a tower which will also be shared with ideastream PBS affiliate WVIZ/25's new digital antenna.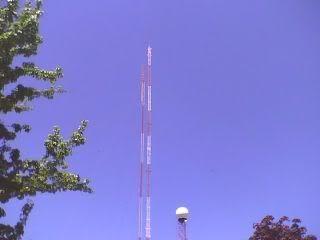 And OMW readers continue to turn the Broadview Road site into a quasi-tourist attraction for those who keep track of local media along with us.
One of our readers shares this photo of the new tower construction, taken Monday.
And that picture was taken just one week after our previous visit to the site, on the evening of Sunday, May 10th. (The sky condition is also a lot clearer!)
It appears the tower is very near to completion. We presume there's still work to do (like, say, mounting antennas), but the structure itself appears almost done.
In
its latest digital transition report
to the FCC, filed on April 10th, WKYC tower-mate WVIZ noted that its antenna was completed, and it would request delivery based on information from tower crews:


THE TOWER IS CURRENTLY BEING CONSTRUCTED, AND THE PREDICTION IS THAT THE ANTENNA WILL BE MOUNTED IN MID-MAY (WEATHER PERMITTING). ALL OTHER EQUIPMENT IS ON SITE.
The near-completion of the tower is good news to over-air digital watchers of WKYC's NBC programming, and WVIZ's PBS programming.
And it's a welcome sight to the stations themselves.
With analog signals now set to shut down for good on June 12th, neither station wants their temporary facilities to be their only facilities... WKYC's current digital RF channel 2 facility, plagued with interference due to its low-VHF channel position, or WVIZ's current 10kW temporary antenna mounted on a WKYC auxiliary tower...