(The following also appears on our main blog, Ohio Media Watch, this morning:)
We couldn't resist the temptation to look again, so we drove the OMW Mobile to the Parma/Seven Hills border once again late Sunday...and checked out the progress of the under construction WKYC/WVIZ tower just over a month before the planned national digital TV transition date of June 12.
We were told by readers a couple of weeks ago that the tower appeared "about half finished".
We're not very good at doing "on the fly" estimates, but here are some pictures.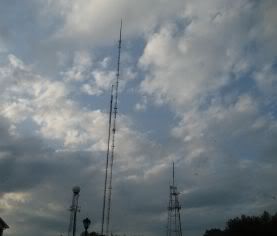 In our estimation, the new tower is now about two-thirds the way up the existing tower next to it.
While we're no experts at how towers are constructed (paging long-time friend, colleague and World Championship Tower Hunter Scott Fybush!), it would appear to us that the tower pictured could be done well before that June 12th deadline, which is the only date that really matters in this whole thing.
FCC-wise, NBC affiliate WKYC/3 has their backup plan...they can stay on digital RF channel 2 for a number of months, thanks to a Special Temporary Authority granted by the FCC, even after analog channel 3 signs off.
Similarly, PBS affiliate WVIZ/25 can camp out on its own temporary facility mounted to a nearby secondary tower at the WKYC site, as it signs off analog channel 25 in June.
But you can bet that both stations don't want to have to use those options.
Barring any unforeseen problems, our semi-educated guess is that the new facilities for both WKYC and WVIZ will be up and running at the transition.
Though WVIZ could well power up the new digital facility before June 12th, we believe WKYC is going to wait to make the RF 2 to RF 17 switch on that date...