(This item is reprinted
from our main blog
.)
Ever since the earlier news that the new WKYC/3 antenna tower was finally rising into the air, we've had one question.
We'll assume that the Gannett Cleveland NBC affiliate will wait until the national digital transition date of June 12th to light up the station's new digital facility on RF channel 17, even assuming the tower is completed well before then...and given that Trinity Broadcasting O&O WDLI/17 plans to shut off its analog signal later this week.
Assuming all continues as planned, WKYC will have a few weeks before June 12 to test the new RF 17 signal - with WDLI's analog signal out of the Canton suburb of Louisville gone after Thursday, its planned shutoff date.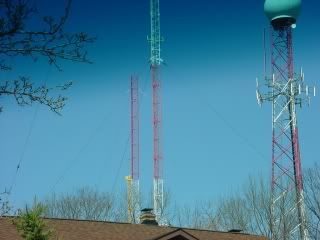 But wither WVIZ/25, the other future occupant of this tower rising at Broadview Road?
We have some news about that.
The ideastream PBS affiliate has filed
its latest digital transition report
, which takes into account the fact that the tower it will occupy is actually being constructed now. Quoting, complete with the capital letters found in FCC filings online:
-----
AS EXPLAINED IN IDEASTREAM'S REQUEST FOR ALTERNATIVE BUILDOUT, WVIZ'S FINAL AUTHORIZED DTV FACILITY IS TO BE LOCATED ON A NEW TOWER TO BE SHARED WITH STATION WKYC-DT. THE CONSTRUCTION OF THAT TOWER HAD BEEN UNEXPECTEDLY DELAYED (SEE, STA REQUEST OF WKYC-TV, INC., FCC FILE NO. BDSTA-20081201AWR AND MONTHLY FCC FORM 387 UPDATES FILED BY WKYC-TV, INC.).
WHILE COMPLETION OF A FINAL FACILITY TO MEET A FEBRUARY 17, 2009 DEADLINE WAS NOT POSSIBLE, IDEASTREAM UNDERSTANDS FROM WKYC-TV, INC. THAT THE NEW TOWER WILL BE COMPLETED WELL IN ADVANCE OF THE NEW JUNE 12, 2009 DEADLINE.
-----
And the filing has specific information about when a new antenna will be added...assuming construction continues unabated:
-----
THE ANTENNA WAS ORDERED FROM DIELECTRIC COMMUNICATIONS ON JUNE 24TH, 2008. IT HAS BEEN MANUFACTURED, AND IDEASTREAM WILL REQUEST DELIVERY BASED ON RECOMMENDATIONS FROM THE TOWER CREW. THE TOWER IS CURRENTLY BEING CONSTRUCTED, AND THE PREDICTION IS THAT THE ANTENNA WILL BE MOUNTED IN MID-MAY (WEATHER PERMITTING). ALL OTHER EQUIPMENT IS ON SITE.
-----
We don't know if WVIZ plans to light up the new digital facility shortly after the antenna is mounted, or if it'll wait until June 12.
The Cleveland PBS outlet has filed for an extension of the current 10kW STA facility from an antenna mounted on WKYC's auxiliary tower.
But the station notes in both filings that with the expected completion of the new WKYC/WVIZ digital tower, it's abandoning a third STA request that would have used 10kW from the side of the current WKYC analog 3 tower.
Thank you to one of our curious readers for the picture taken Sunday afternoon, showing guy wires now holding the under construction tower, and for the link to the WVIZ transition update filing.
(At this rate, the WKYC/WVIZ site will become the 2009 Radio/TV Tourist version of the WHOF/101.7 facility in Canton!)